Trumping Our Rights symposium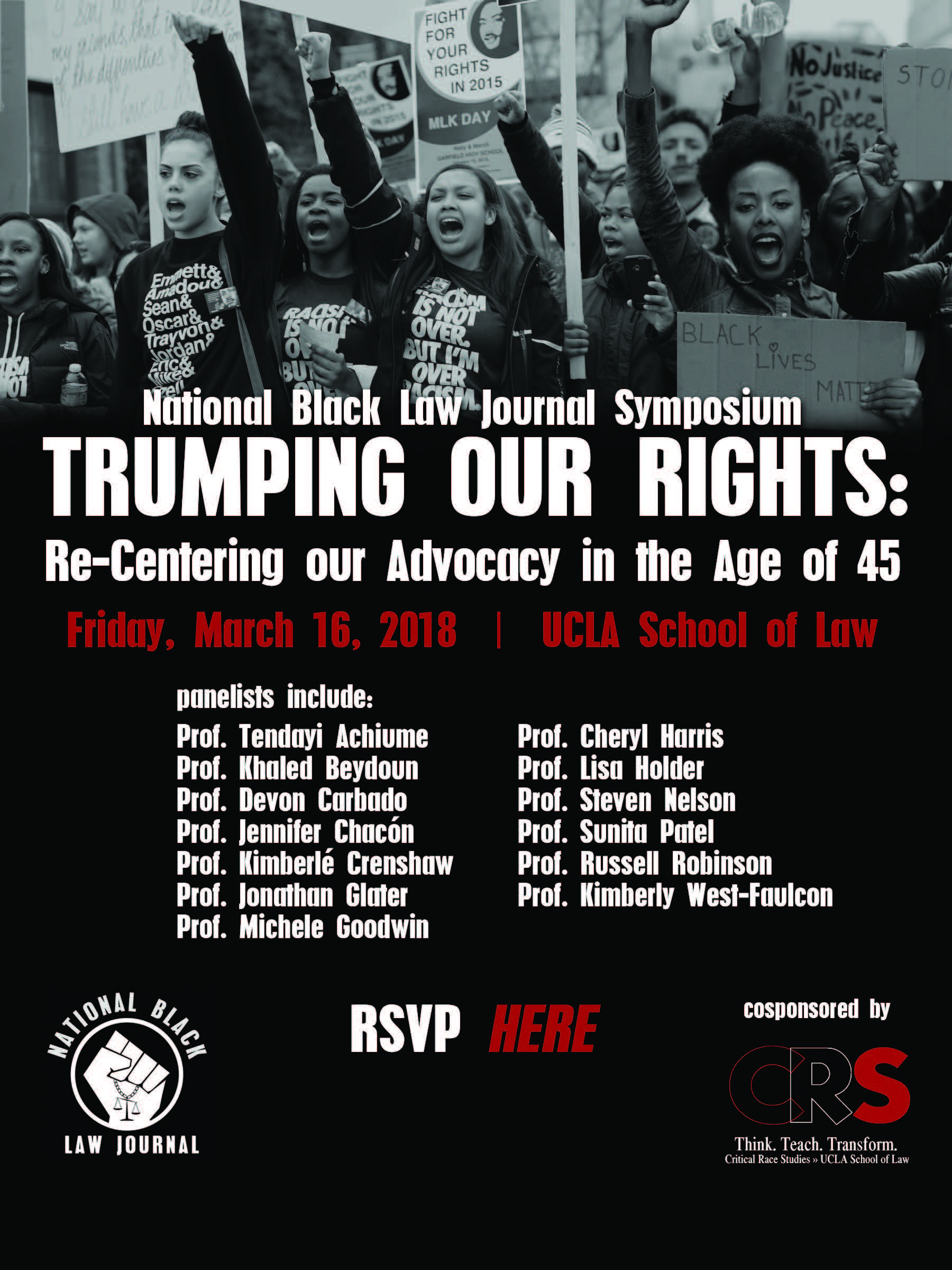 When: Fri, Mar 16 2018 9:00am - Fri, Mar 16 2018 6:30pm 
Where: UCLA School of Law
On Friday, March 16, 2018 from 9:00 a.m. to 6:30 p.m., the National Black Law Journal will be hosting a symposium in collaboration with the Critical Race Studies program titled "Trumping Our Rights: Re-Centering our Advocacy in the Age of 45." This symposium will focus on the effects that the current President's policies and judicial appointees have had and will have on the Black community. More importantly, it will focus on how we can overcome these challenges as lawyers and activists to continue fighting for the liberation of our people. The symposium will feature distinguished UCLA School of Law faculty including Cheryl Harris, Devon Carbado, and Kimberlé Crenshaw. The symposium will also feature distinguished faculty from several other law schools including UC Irvine and UC Berkeley. There will be four panels on the following topics: education, criminal justice, immigration, and gender and sexuality.
The Immigration and International Rights panel will discuss how the current administration's policies have affected Black immigrants and the African diaspora. Topics include, but will not be not limited to, the travel bans, the end of temporary protected status for Haitian immigrants, and DACA.
The Criminal Justice and Policing panel will examine aspects of the criminal justice system both pre and post the Donald Trump White House. The discussion will include an examination of how the current U.S. Attorney General's policies target Black people and communities. Topics will range from predatory policing and Fourth Amendment law to the privatization of federal prisons, the relaunch of the War on Drugs, and the departure from investigations of police departments accused of various forms of state violence.
The Education panel will explore the ways in which this administration's policies negatively impact Black students. Panelists will discuss topics including, but not limited to, the school-to-prison pipeline, increased funding for charter schools in conjunction with decreased funding for traditional public schools, access to higher education, and changes to financial aid.
The Gender and Sexuality panel will interrogate the threat that this administration poses to Black women and the LGBTQ community, as well as the tools of advocacy we should employ as lawyers and activists to combat these threats. Panelists will discuss topics including, but not limited to, the administration's attack on women's reproductive rights, LGBTQ rights, and protections against sexual assault through an intersectional lens.