Speaker: Dr. Lisa Bates, Collective Memory and Planning in Black Portland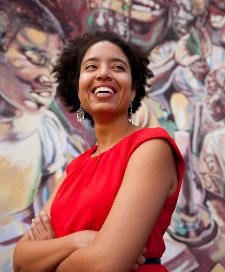 When: Mon, Oct 01 2018 5:30pm
Where: UNM, Garcia Honda Auditorium at George Pearl Hall
Portland's Black neighborhoods have been shaped by a history of exclusion and enclosure, and now are facing new forms of urban renewal. Gentrification has displaced people from their homes and community, not only physically, but emotionally. People struggle to re-structure relationships to place and collective memory as the city itself is restructured by capital for new residents. Dr. Bates works in a collaborative practice to surface family and community histories as important foundations for planning knowledge and methods. This work includes engaged inquiry, emancipatory planning processes, and place-responsive art to present Black life as an ongoing presence in these neighborhoods as alive and important, defying erasure in saying "we still here." By asking Black Portlanders to remember their generational presence and imagine, the planning creates a space for both a counter-narrative of community history and a pathway towards a more just future.
Dr. Bates is an Associate Professor at Portland State University. Her work focuses on social justice, including how inequitable outcomes may arise from institutionalized racism in policy design and implementation. Her research describes how people of color and low-income households make decisions about housing and neighborhoods, given their perceived choices and constraints.
As a planner, Dr. Bates engages with space and place as important to the context of decision-making and policy-making and has conducted research in diverse settings, including Chicago, post-Katrina New Orleans, and Portland. In Portland, Dr. Bates has served as the co-lead for the Technical Advisory Group on Equity and Civic Engagement for the Portland Plan and on the Creation Committee for the Office of Equity and Human Rights, which address institutionalized racism in city government. She has participated in the Partnership for Racial Equity, a working group convened by the Urban League of Portland to create a Racial Equity Strategy Guide for public agencies. She was also a co-lead for the Housing and Communities committee of the Greater Portland Pulse, a regional indicators project.
Please join the Department of Community and Regional Planning in welcoming Dr. Bates to Albuquerque for what is sure to be an incisive discussion.