Critical Race and Intersectionality Summer School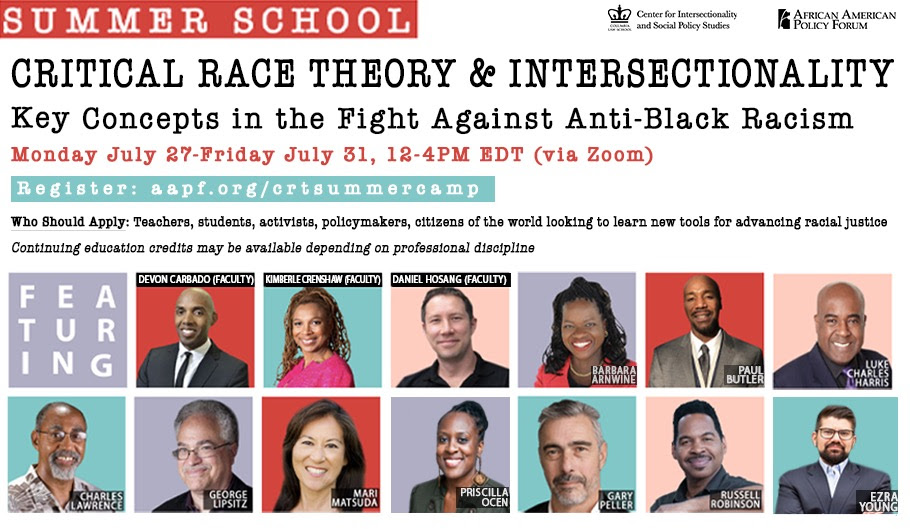 When: Mon, Jul 27 2020 10:00am - Fri, Jul 31 2020 3:00pm 
Where: Zoom
The African American Policy Forum, in partnership with the Center for Intersectionality and Social Policy Studies at Columbia Law School, is pleased to offer their inaugural Critical Race Theory (CRT) and Intersectionality Summer School. Entitled, "Critical Race Theory & Intersectionality: Key Concepts in the Fight Against Anti-Black Racism," the 5-day course will feature 13 leading critical race scholars providing accessible instruction about core themes in a mixed-presentational format. The week-long series will be led by Kimberlé Crenshaw, Devon Carbado, and Daniel Martinez HoSang along with instructors Barbara Arnwine, Paul Butler, Luke Charles Harris, Charles R. Lawrence III, George Lipsitz, Mari Matsuda, Priscilla Ocen, Gary Peller, Russell Robinson, and Ezra Young.
For more information on the AAPF Summer School and how to apply, please review the information below.
Summer School Description
Anti-Black racism has once again moved to the center of national consciousness in the midst of two once-in-a-century events—the COVID-19 pandemic and the popular uprisings in response to unyielding forms of state violence and racial terror. The enduring racial inequalities laid bare by the casual murders of George Floyd, Breonna Taylor, and Ahmaud Arbery, along with the profound racial disparities in the COVID-19 death toll have loosened the grip of colorblindness as the officially sanctioned anecdote to persistent racial injustice.
To capture the significance of this opportunity in the current struggle against anti-Black racism, it is important to understand the checkered history of post-apartheid race reform and the continuing legacy of slavery and segregation today in both the law and in wider society at large. Narrow conceptualizations of racial inequality have plagued the movement against anti-Black racism for more than a generation. And throughout this post-civil rights history, CRT and Intersectionality have produced wide-ranging bodies of knowledge to uncover how racial domination is produced, naturalized, and contested within the law, public policy, and a wide variety of institutional and social locations. CRT and Intersectionality have also modeled modes of collaboration, exchange, and collective analysis that stand in sharp contrast to the individuated understandings of social inequality that rule most disciplines and institutions today.
This Summer School is designed to recover the broad insights and commitments of CRT/Intersectionality in this potentially transformative moment. In topics ranging from vote suppression and employment discrimination to affirmative action and criminal justice, faculty and instructors will demonstrate how CRT and Intersectionality figure prominently in efforts to foreground the many ways that social power and inequality are produced. LGBTQ rights, housing, public safety, public education, and their intersections with legacies of anti-Black racism will be uncovered and explored. Participants will gain not only a deeper understanding of the systemic and subordinating forces which had led to our current moment but the strategies and insights needed to contest and dismantle those myriad social inequalities.
If this current reckoning with racism is destined to shake the foundations of the current order, the insights and tools of CRT and Intersectionality will provide critical tools that will render the dismantling of the status both urgent and imaginable.
Dates: July 27th - July 31st
Time: 12:00 p.m. - 4:00 p.m. EST (9:00 a.m. - 1:00 p.m. PST)
Venue: Online (Zoom)

For more information on the program, please visit AAPF's website.
For a detailed description of the daily lectures and panelists, please visit here.
Apply for CRT and Intersectionality Summer School
Cost of CRT Summer School
The program cost for the 5-day course is as follows:
Corporate, Law Firm, D&I and Journalists: $1,100
Government, Higher Education, and Large Nonprofits*: $550
Small Nonprofits* & Individuals: $250
AAPF is delighted to offer limited, need-based scholarships, with a preference for students, low-income workers, social justice activists, and K-12 teachers.
To apply for a need-based scholarship please fill out the Scholarship Form.
CLE/MCLE Pending Approval
MCLE in California and CLE credit in New York is currently pending. Once the credit is approved, this course will provide between 15-20 MCLE/CLE units. MCLE/CLE Credits Interest Form is here.
Large nonprofits are organizations with a budget of $750,000 or more
Small nonprofits are organizations with a budget of $749,999 or less