(National) Pardee RAND Graduate School 8th Annual Faculty Leaders Program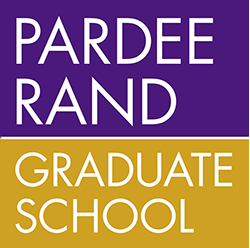 When: Mon, Mar 02 2020 12:00am
Where: Santa Monica CA
A Five-Day Workshop on the Tools of Public Policy and How to Engage the Next Generation of Leaders undefined
Pardee RAND Graduate School is now accepting applications for the 8th annual Faculty Leaders Program July 20-24 in Santa Monica, CA.
Fellowships that cover tuition and travel costs will be awarded.
Program Benefits
The Pardee RAND Graduate School's Faculty Leaders Program seeks to build diversity in public policy through strong engagement of faculty leaders across the United States. The program is open to current faculty at U.S. colleges and universities in any discipline who are passionate about leveraging their teaching and research to better their communities and to help usher in the next generation of policy leaders. Fellowships that cover tuition and travel costs will be awarded to up to fifteen participants. During the week-long program, you will learn how to:
Use your position as a faculty member to bring positive change to your community.
Bring a public policy component to your research.
Integrate your scholarship into the public discussion (for example, with policymakers, practitioners, and/or the media).
Enhance your curriculum by linking concepts of public policy analysis to your own discipline.
Mentor students who have the passion and potential to become leaders in public policy.
Develop a new network of peers, including RAND researchers, in the faculty and policy community
Who Should Apply?
Pardee RAND is committed to increasing the prevalence of scholars/professionals from underrepresented minorities in all levels of the policymaking process. Faculty serving highly diverse student bodies are encouraged to apply.
We also seek to expand the academic range of scholars engaged in public policy. We recognize that the humanities and qualitative social sciences — anthropology, area studies, ethnic studies, history, urban studies, religion, sociology, and many more — have not been as involved in public policy as other disciplines. Because everyone can make significant contributions to the sphere of policy debate, we welcome applications from faculty in a broad range of disciplines.
Learn More
Applications are being accepted through Monday, March 2. Visit our program website or contact us at facultyleaders@rand.org.
Link: Professional Development in Policy Research & Analysis Faculty Leaders Program