National Day of Racial Healing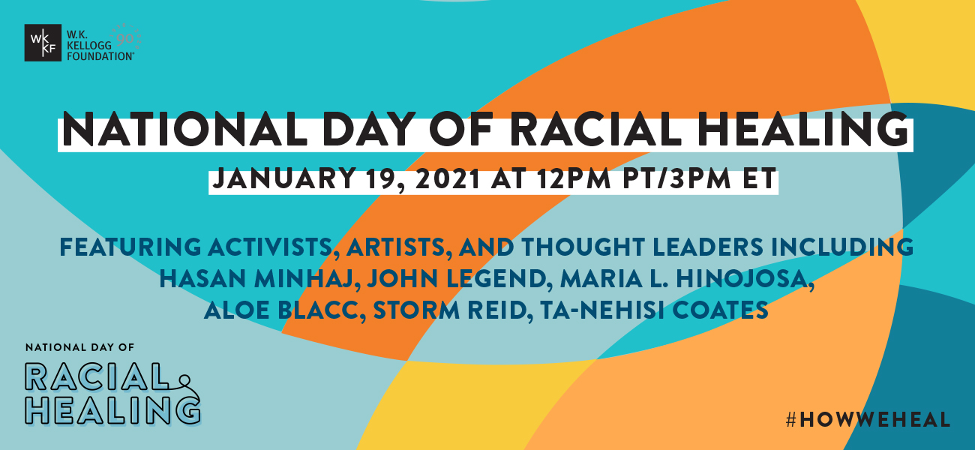 When: Tue, Jan 19 2021 1:00pm
Where: Zoom
Many people would like to talk about the impact of racism—and the need for racial healing—but don't know where to start. Over the past five years, many have found creative ways to engage in honest, powerful and moving conversations and experiences to build relationships and lay the groundwork for racial healing.
With this day, our goal is to bridge divides, affirm our common humanity and together, create more just and equitable communities.
Please join us on Tues., Jan. 19, 2021 beginning at 3 p.m. ET along with our host,
Baratunde Thurston, and featuring John Legend, Ta-Nehisi Coates, Hasan Minhaj, Maria Hinojosa, Aloe Blacc, Storm Reid and more.
To RSVP for the National Day of Racial Healing, find other virtual events hosted by organizations near you, and download action kits to bring racial healing to your community, visit
https://www2.wkkf.org/e/541352/2021-01-12/5v44w3/609324218?h=QvAkKQ3u5KNtPQ2OTrwW6rmHF59yrn3S0kXxGfzhAjs
.
Healing
is at the heart of racial equity.
#HowWeHeal
Link: Registration link