(National) 2020 Association of Black Sociologists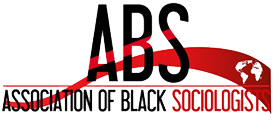 When: Thu, Apr 15 2021 12:00am - Sat, Apr 17 2021 12:00am 
Where: Washington DC
Member and Community Safety First
Thank you for your patience as we worked to assess the safety of proceeding with our conference as scheduled in October 2020. As the COVID-19 pandemic continues to ravage our communities because of government neglect, anti-Black racism, and a profound lack of care for the most vulnerable members of U.S. society, we have decided to postpone our in-person convening until April 2021. Special thanks to Executive Officer BarBara Scott and Administrative Officer Courtney Patterson-Faye for working with our hotel negotiations team at Halms-Briscoe to find a solution that would preserve the health and safety of our members. Please note that we will continue to monitor conditions and will work with the hotel to ensure that all CDC guidelines (and stricter guidelines where necessary to protect our communities) can be followed for the duration of the April conference.
The conference portal is open for new submissions and revisions to existing submissions, including withdrawals, until January 15, 2021. If you would like to submit a new paper, presentation or panel or would like to update a previous submission, please click here. If you would like to withdraw your conference submission please click here and provide your name, institution, and title of your presentation/panel. If you do not need to revise or withdraw your submission, you do not need to take any action.
Special Virtual Sessions, October 6-8, 2020
We feel it is important to have a space for us to collectively convene to discuss the urgent and intersecting matters of institutional racism in the pandemic response and in the response to uprisings against ongoing police brutality, as well as to mark the occasion of the organization's 50th year. The Association will host a series of panels, one on each evening of the originally scheduled conference, so that we might hear members' expertise and support each others' research, teaching, and community actions. Please save the evenings of these dates. Details will be forthcoming.
Election and Leadership Transition Logistics
In light of the significant changes the pandemic has brought upon us, I have asked our current Executive Committee leadership to stay on through the Chicago meeting in August 2021. We will hold a regular election this year in advance of our October convening, and those elected will be brought on in a shadow capacity in October and will officially be installed to their posts at the next in-person meeting. These persons will remain in their posts until August 2022, or for those with two-year terms, August 2023. The regular nominations and election process will resume in the spring of 2022. We have made these extraordinary and difficult decisions in order to maintain organizational stability and to better serve the membership during this time.
If your membership is not current for the 2020 calendar year, please renew so that you can participate in this year's election.
Link: ABS@50