Lea County Tiny Census Concerts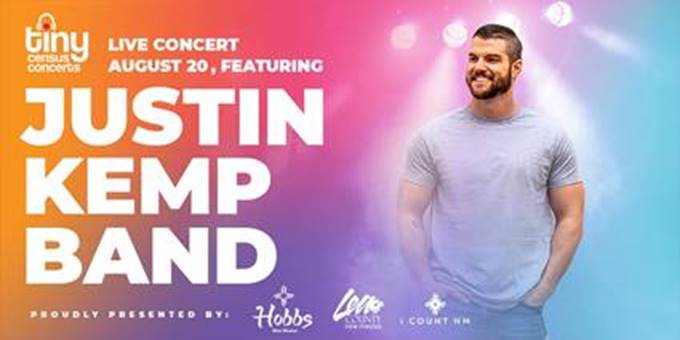 When: Thu, Aug 20 2020 7:00pm
Where: Facebook Live
Lea County and the City of Hobbs will host the Lea County Tiny Census Concerts (TCC) series of local performers, beginning August 20 with the Justin Kemp Band.
Local performers will perform the next 5 weeks on Thursday evenings at 7 p.m. on Facebook Live feeds on the City's (https://www.facebook.com/pg/cityofhobbsgovernment/posts/?ref=page_internal) and County's (https://www.facebook.com/pg/MikeGallagherLCM/posts/?ref=page_internal) Facebook pages to entertain, express the importance of the Census in their lives.
Each concert will end with over $1,000 in gift card giveaways! The gift cards include:
Brown's Show Fit Co.
Martin Boot Co.
Albertsons Market
Drylands Brewing Co.
Taqueria Jalisco's
Jimenez Rancho Grande
Undergrounds Coffee Co.
Outlaw Grill
Cornerstone Coffeehouse
Each gift card is for $100, and there are six (6) cards available from each business.
In order to qualify for entry in the gift card raffle, a viewer of the TCC must complete their 2020 Census online at 2020census.gov and submit their confirmation code to the email address mailto:census@leacounty.net prior to the giveaway at the end of every concert. If you have completed your Census ahead of the concert series, you are still eligible to win!
Completing your Census takes an average of 5-10 minutes. It is important to note every resident of a household is to be counted at the residence, even those who are unrelated.
Thank you to our organizers and sponsors
Thank you to Mr. Mike Gallagher, Lea County Manager and Chair of the Lea County Complete Count Committee and Ms. Meghan Mooney, Director of Communications for the City of Hobbs, and Chair of the joint City of Hobbs/Lea County Complete Count Committee for their leadership and work ethic for identifying local artists who are trusted voices in the community to encourage everyone to be counted in the 2020 U.S. Census. Thank you to Lea County local businesses who are the backbone of our communities.
Link: Event on Facebook