Institute for American Indian Education (IAIE) Virtual Summit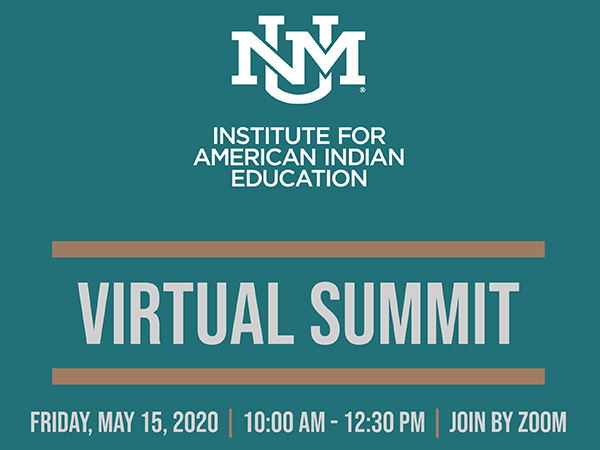 When: Fri, May 15 2020 10:00am - Fri, May 15 2020 12:30pm 
Where: Online Zoom Event
The Institute for American Indian Education (IAIE) is hosting a virtual summit on May 15th from 10AM to 12:30PM to address the impact of the Yazzie/Martinez v. State of New Mexico ruling on the current state of Indian education.  The summit will be presented in Parts I and II which will include updates and opportunities for discussions among all attendees. A link to participate in the summit will be sent after registration.
PART I
We will provide an update on the case from Attorney Gail Evans from the NM Center on Law & Poverty and then NM State Representative Derrick J. Lente - (D) will share his perspectives on the actions taken by the legislature to address the suit. Participants will have an opportunity to submit questions prior to the summit and engage in discussion on the issues presented by Ms. Evans and Rep. Lente.
PART II
After a brief break, participants will have an opportunity to further discuss the impact of the case on their own schools and community through breakout sessions. Questions to be considered include: Are the remedies in Judge Singleton's ruling being met? What else is needed to not only comply with the ruling, but to transform public education for American Indians in the state?
Registration
To register and submit your questions for Gail Evans and/or Rep. Derrick J. Lente, please email Brianna Fragua at bfragua@unm.edu by 5PM on Tuesday, May 5th.
Include in the registration your name, affiliation, and whether you will participate by computer or audio/telephone.
Zoom link will be sent out to participants on Monday, May 11th.