Dr. Ruha Benjamin Lecture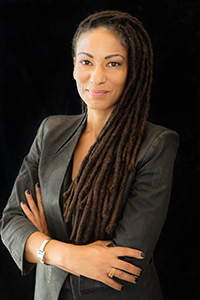 When: Wed, Jun 10 2020 10:00am - Wed, Jun 10 2020 11:30am 
Where: Online
Join us for a Lecture by Dr. Ruha Benjamin of Princeton University on June 10.

CNM's School of Communication, Humanities & Social Sciences proudly presents an online lecture with Dr. Ruha Benjamin, an associate professor of African American Studies at Princeton University where she studies the social dimensions of science, technology, and medicine.

Don't miss "Humanities Exposed: Why the Humanities are Vital in Reimagining Technology & Society."

Dr. Benjamin, also an author of two books, speaks widely about the relationship between knowledge and power, race and citizenship, health and justice.
RUHA BENJAMIN
Associate Professor of African American Studies @Princeton University
Ruha Benjamin specializes in the interdisciplinary study of science, medicine, technology; race-ethnicity and gender; knowledge and power.
She is author of People's Science: Bodies and Rights on the Stem Cell Frontier Stanford University Press 2013, Race After Technology (Polity 2019), editor of Captivating Technology: Race, Carceral Technoscience, and Liberatory Imagination in Everyday Life (Duke University Press 2019).
She received her BA in sociology and anthropology from Spelman College, MA and PhD in sociology from UC Berkeley, and completed postdoctoral fellowships at UCLA's Institute for Society and Genetics and Harvard University's Science, Technology, and Society Program.
She has been awarded fellowships and grants from the American Council of Learned Societies, National Science Foundation, Ford Foundation, California Institute for Regenerative Medicine, and Institute for Advanced Study.
In 2017, she received the President's Award for Distinguished Teaching at Princeton.


Link: Register now