Columbus, Conquistadors, Confederates: Hegemonic Space and The Undercommons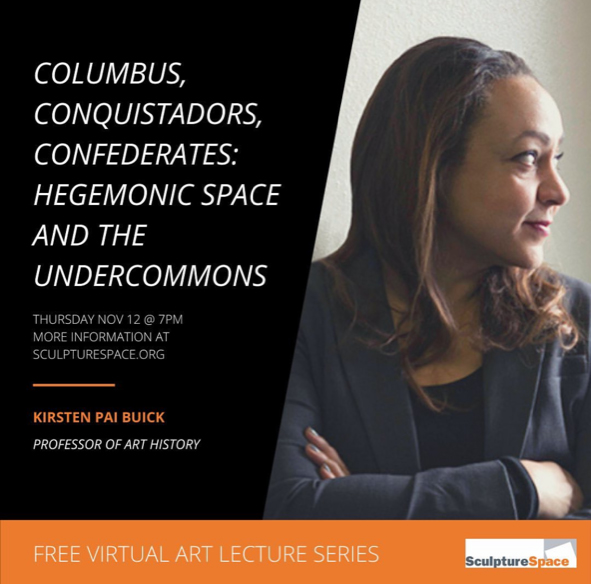 When: Thu, Nov 12 2020 7:00pm
Where: Online
Kirsten Buick — SCULPTURE SPACE
THIS IS A FREE VIRTUAL EVENT OPEN TO THE PUBLIC
The "undercommons" are spaces found in the relationships between people who have been denied resources.
Such people, according to Stefano Harney and Fred Moten, are joined not by the common use or ownership of space (i.e., the "commons"), but by belonging within the community of those who have been excluded.
Alternately, the "commons" are hegemonic spaces, which are populated by symbols that reinforce exclusion and narratives of belonging to the nation.
This lecture will explore how civil unrest in a small town can spark the toppling of such symbols on a global scale.
While monuments suggest permanence and conflicts that are settled, the ongoing battle for the right to define public space is the only real constant.
Kirsten Pai Buick is a professor of art history at the University of New Mexico.
She received her Ph.D. in art history from the University of Michigan.
She has been the recipient of the Smithsonian American Art Museum's Predoctoral Fellowship and a Charles Gaius Bolin Fellowship at Williams College.
In 2015, Buick was awarded the David C. Driskell Prize for African American Art. Her research and publishing focus on the visual and material culture of the first British Empire, art of the U.S., sculpture, landscape representation, African American art, and women as patrons and collectors.
In 2010, her book Child of the Fire: Mary Edmonia Lewis and the Problem of Art History's Black and Indian Subject was published by Duke University Press.
Her second book, In Authenticity: "Kara Walker" and the Eidetics of Racism, is in progress.