Anti-Racism and Intersectionality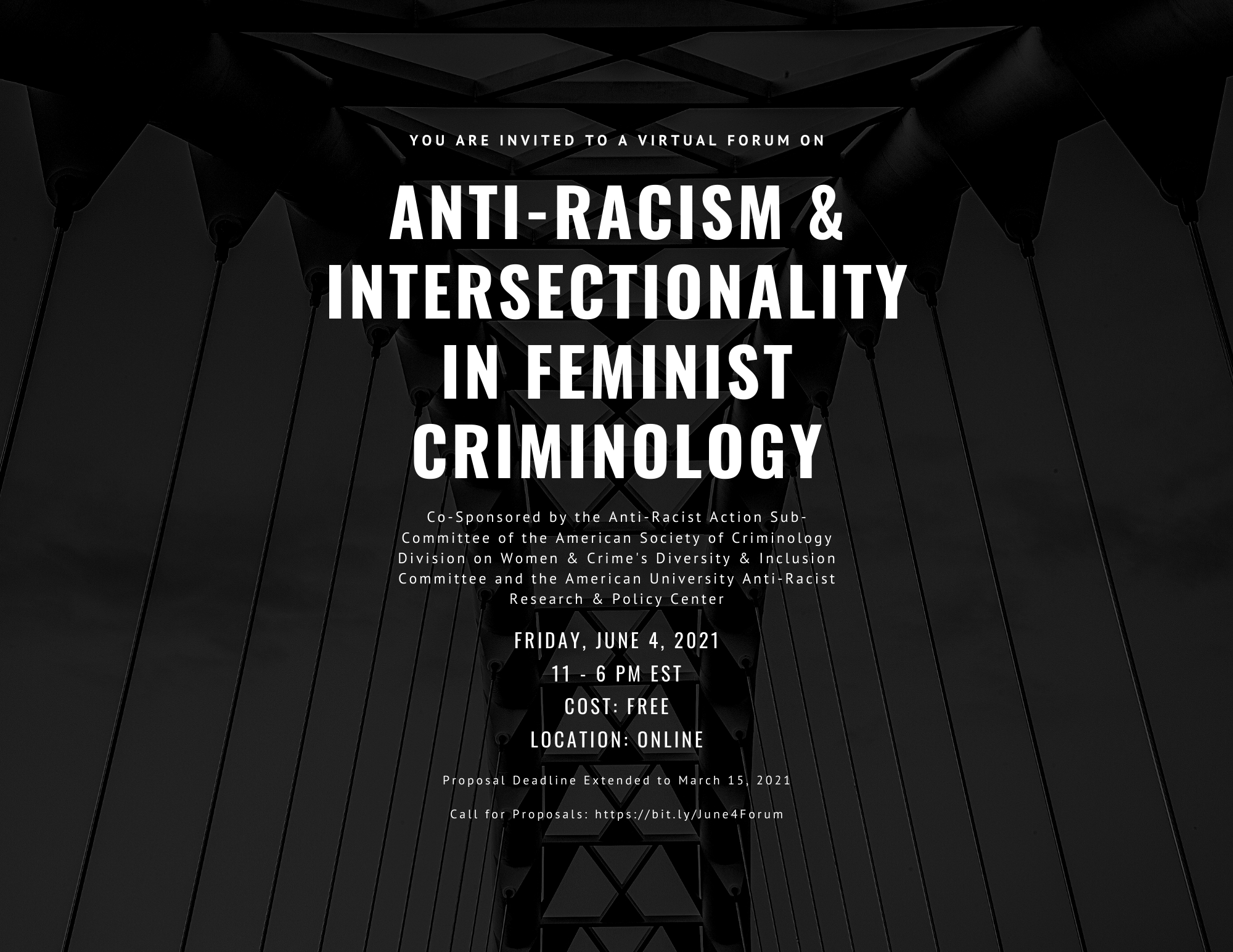 When: Fri, Jun 04 2021 11:00am - Fri, Jun 04 2021 6:00pm 
Where: Online
Forum on Anti-Racism & Intersectionality in Feminist Criminology
You are invited to submit a proposal to participate in a virtual forum. This event is co-sponsored by the American Society of Criminology Division on Women & Crime Diversity & Inclusion (D&I) Committee and the American University Anti-Racist Research & Policy Center. 
The forum is being organized by the D&I Committee's newly formed Anti-Racist Action Sub-Committee.
The conference is free to attend. 
Virtual Event Date: Friday, June 4, 2021, 11 - 6 pm EST
Proposal Submission Deadline: March 15, 2021
Submit your proposal here.
If we are silent in the face of multiple forms of injustice, we are complicit, especially as criminologists. To this end, you are invited to propose a session for a forum on anti-racist / intersectional practice in the field of feminist criminology related to our roles as researchers, teachers, colleagues, and community members. 
Feminist criminology, broadly, is a discipline that centers gender in the study of crime. Yet, as Potter (2006) notes, mainstream feminist criminology has often ignored "other inequities [that] must be considered principal, not peripheral, to the analysis of women. This includes incorporating key factors such as race and/or ethnicity, sexuality, and economic status into any examination." (p.107). 
The proposed sessions are not intended to be lecture-based and PowerPoints should be used sparingly. The purpose of the forum is to have (virtual) face-to-face discussions to advance ideas, share resources on how to implement these ideas, learn from one another, and make plans to take action.
Your proposed session can focus on projects, ideas, programs, policy advocacy, activism, initiatives, or research that are planned or aspirational; in progress; or completed.
Your session can be structured as:
A roundtable-style discussion for brainstorming on any topic related to the conference theme or an open conversation that is an opportunity to gather feedback regarding a planned, in progress, or stalled project, initiative or idea.
A workshop, which is an opportunity to talk specifically about how to do better and be better within feminist criminology, academia, and our lives. 
A spotlight presentation, which is an opportunity to highlight a completed recent project, initiative, or research paper you are particularly proud of with a brief presentation. Mutual Q&A after the presentation will involve questions for the audience and audience questions for the presenter. Again, no PowerPoint, just you talking about something cool you did that demonstrates anti-racist or intersectional practices in teaching, research, service, or the community. 
Proposed sessions should be associated with anti-racism and intersectional practices related to our roles as: 
Teachers & Mentors
Researchers & Scholars
Colleagues & Allies
Members of a University Community
Community Members & Neighbors
Members of ASC, DWC or other ASC Divisions
Please note, you do not need to be an "expert" in anti-racism or intersectional practices, this is an opportunity for us to learn from one another on how to improve and get more engaged in these practices. In case it is helpful, we have brainstormed ideas of the topics that could fall under each of these role-based categories - but you are not limited to the topics on this list.
We are also seeking recommendations for invited keynote speakers related to the theme of the event, who will receive honoraria. Self-nominations are encouraged. You may email your nomination to crim.antiracist.action.2020@gmail.com or submit names with your proposal submission.
Are you interested in helping to organize the forum? Sign up here.
Link: Event Website