2019 First-Generation Celebration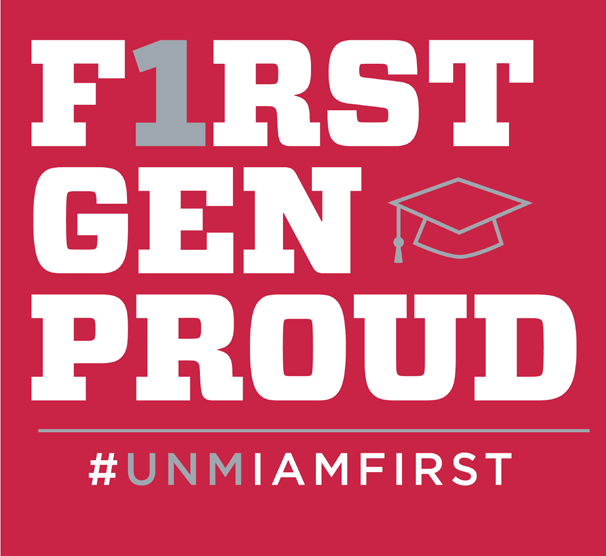 When: Fri, Nov 08 2019 11:00am - Fri, Nov 08 2019 1:00pm 
Where: SUB Atrium
At UNM, nearly 40% of our incoming students identify as being the first in their family to go college. They come to UNM academically prepared with unmatched determination and motivation to seize the opportunity to earn a college degree. For many of our first-generation students, being the 'first' is a dream come true! 
Despite the excitement, it is quickly realized that being a trailblazer often comes with challenges that their peers may not have experienced or fully understand. Understanding the financial aid process, college lingo, selecting a major, engaging with faculty, asking the right questions, lack of information, etc. are just some of the challenges that first-generation students face, making them feel as if they are alone in this process. 
On November 8, 2019, we are reminding students that they are not alone by celebrating the success of first-generation college students, faculty, and staff on our campus! 
By creating awareness, sharing stories, and highlighting resources, we hope to create a culture that encourages students to ask for help and remind them that there are thousands of Lobos just like them!
Ways to get involved!
Wear your First-Gen Proud shirt on Friday, November 8th!

Teaching a class or advising a student? Take a minute or two to share your journey of being a first-generation student! T-shirts will be available for pick-up beginning on Friday, November 1st. 

Display a First-Gen Proud card

Displaying a card in your office or on your desk can indicate to a first-generation student that you understand their perspective and committed to their success. Display cards will be available for pick-up beginning on Friday, November 1st. 

Write a Dear First-Gen Letter!

We are collecting letters of support / encouragement to hand out to current, first-gen, UNM students. Please send letters to unmsss@unm.edu 

Participate in the celebration!

Attend and invite your students and colleagues to the celebration!
First-Generation Celebration Details
Friday, November 8th
SUB Atrium 
11:00 am - 1:00 pm
Guest Speakers, Photo Booth, Resource Fair, Community and CAKE!
Please complete the form below to receive a First-Gen Proud shirt. Be sure to wear it on Friday, November 8th!