2020 Census
Dear Lobos:
We need your help! 
We need every UNM Student, Staff and Instructors to reach out to their local community to increase 2020 Census self-response rates. 
A full count for the 2020 Census is urgent for the future of NM. We have one of the lowest self-response rates in the country (55% compared to 65% for the rest of the country as of 9/2/20). We don't get a redo. We need a massive grassroots movement as this will mean lost resources for education, infrastructure, political representation and civil rights for our state for the next decade. The good news is that it's not too late to be counted in 2020 Census. September 30, 2020 is the last day to be counted. Visit https://my2020census.gov/ to respond online or call 800-923-8282 to respond by phone. 
We ask you as trusted messengers  to reach out to  your families, friends and social networks and mobilize 5-10 people to fill out the Census.
The UNM 2020 Census Complete Count Committee invites you to enter a FREE Raffle. Winners will receive $50 gift cards for mobilizing your social networks, just email UNMSC@UNM.EDU by 9/30
(See attached flyer with more information on how to win one of the 200 gift cards). Note: If a student lived in UNM housing/dorms in Spring 2020 they have already been counted as part of the group quarters enumeration. Over 80% of UNM students do not live in dorms so they do need to fill out the Census. 
 Remember, everyone living in NM counts! T
here is no citizenship question. All data are confidential. If you are interested in volunteering 
for phone banking 
please email julisa@mediadesknm.com who will set you up with the iCountNM virtual phone banking system.
T
H
ANK YOU FOR YOUR COMMITMENT TO MOBILIZING FOR A COMPLETE COUNT OF EVERYONE LIVING IN NEW MEXICO!  
Videos for UNM Press conferences and other info available at
https://race.unm.edu/
, click 2020 Census. With appreciation!
Latest updates according to New Mexico state demographer and head of UNM's Geospatial and Population Studies Robert Rhatigan:
As of August 5,

 

2020

 

the national self-response rate was 63 percent and in New Mexico the self-response rate was 53 percent. In 2010 New Mexico's self-response rate was 60 percent. You can view self-response rate daily down to Cities and

 

Census

 

Tracts at

 

https://

2020

census.gov/en/response-rates.html

. We need every UNM  Student Faculty Staff person to reach out to their local community to increase

 

2020

 

Census

 

self-response rate.
#UNMCENSUS2020 is the university's initiative to ensure that every Lobo counts, particularly those who have been historically undercounted within New Mexico.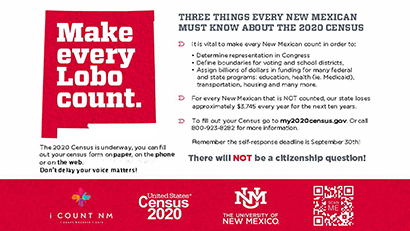 To help raise awareness of the roles students can play in the 2020 Census, the UNM Complete Count Committee threw a virtual block party on Wednesday, April 15th, 2020, from 11 a.m. to 1 p.m. See the virtual block party! The block party celebration included:
Music, Poetry Performances, and Visual Art
Live Conversations and Q&A with Local, Trusted Community Partners
Up to 200 Free $50 and $200 Raffled Prizes (See Links Below and Attached Files to Enter)
Census Challenge Giveaway -- Deadline May 30, 2020
If you haven't already, please respond to the Census 2020 Higher Education Survey. It's super simple and should take less than 10 minutes (much like the census)
Update for Colleges Presentation by Dr. Mercy Alarid, Senior Partnership Specialist U.S. Census Bureau, including contact information
2020 Census is Here!
The self-response period for the 2020 Census has started and people can now begin to respond to the Census in one of three ways: online, by paper, or by phone.
In an effort to leverage some of the trusted messengers in our communities, Rep. Deb Haaland recorded a special video message to encourage New Mexicans to participate in the census, and in doing so, ensuring billions in federal funding make their way to our communities for the next 10 years.
2020 Census Phone Numbers
English: 844-330-2020
Spanish: 844-468-2020
Chinese (Mandarin): 844-391-2020
Chinese (Cantonese): 844-398-2020
Vietnamese: 844-461-2020
Korean: 844-392-2020
Russian: 844-417-2020
Arabic: 844-416-2020
Tagalog: 844-478-2020
Polish: 844-479-2020
French: 844-494-2020
Haitian Creole: 844-477-2020
Portuguese: 844-474-2020
Japanese: 844-460-2020
To complete the 2020 Census over the phone with a Census Questionnaire Assistance representative, call 1-844-330- 2020. If you would like more information about the 2020 Census, including partnering with the Census Bureau or job-related questions, please visit the 2020 Census Contact Us page.
Why Is An Accurate Count Urgent for the Future of New Mexico?
Below are some talking points compiled by the UNM 2020 Census Complete Count Committee and our partners for use by students, staff, faculty, and community. Thank you!
Decennial Census count is part of the formula for distribution of federal funds to states and local communities.
New Mexico receives over $7 billion each year through federal programs which benefit the entire community: health care, nutrition, highways, education, housing, jobs and more that allocate funds on per capita basis. icountnm.gov/why-is-the-census-important
How to help!
Encourage your family and friends to respond to the census online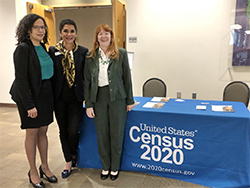 For students living at the dorms:
Boarding school students below the college level should be counted at the home of their parents or guardians.
College students who are living at home should be counted at their home address.
College students who live away from home should count themselves at the on- or off-campus residence where they live and sleep most of the time, even if they are home on April 1, 2020.
U.S. college students who are living and attending college outside the United States are not counted in the census.
Foreign students living and attending college in the United States should be counted at the on- or off-campus residence where they live and sleep most of the time.
2020census.gov/en/who-to-count.html
College Towns Depend on Accurate Count of Students Living in Area
"Every 10 years, the U.S. Census makes its way into American households, representing the purported aim of our forefathers to see every person in the nation counted, and to use those numbers to determine representation in Congress. As the 2020 census approaches, mired in complications, many are wondering… just who does the census count, and who does it leave behind?"
Census Jobs Available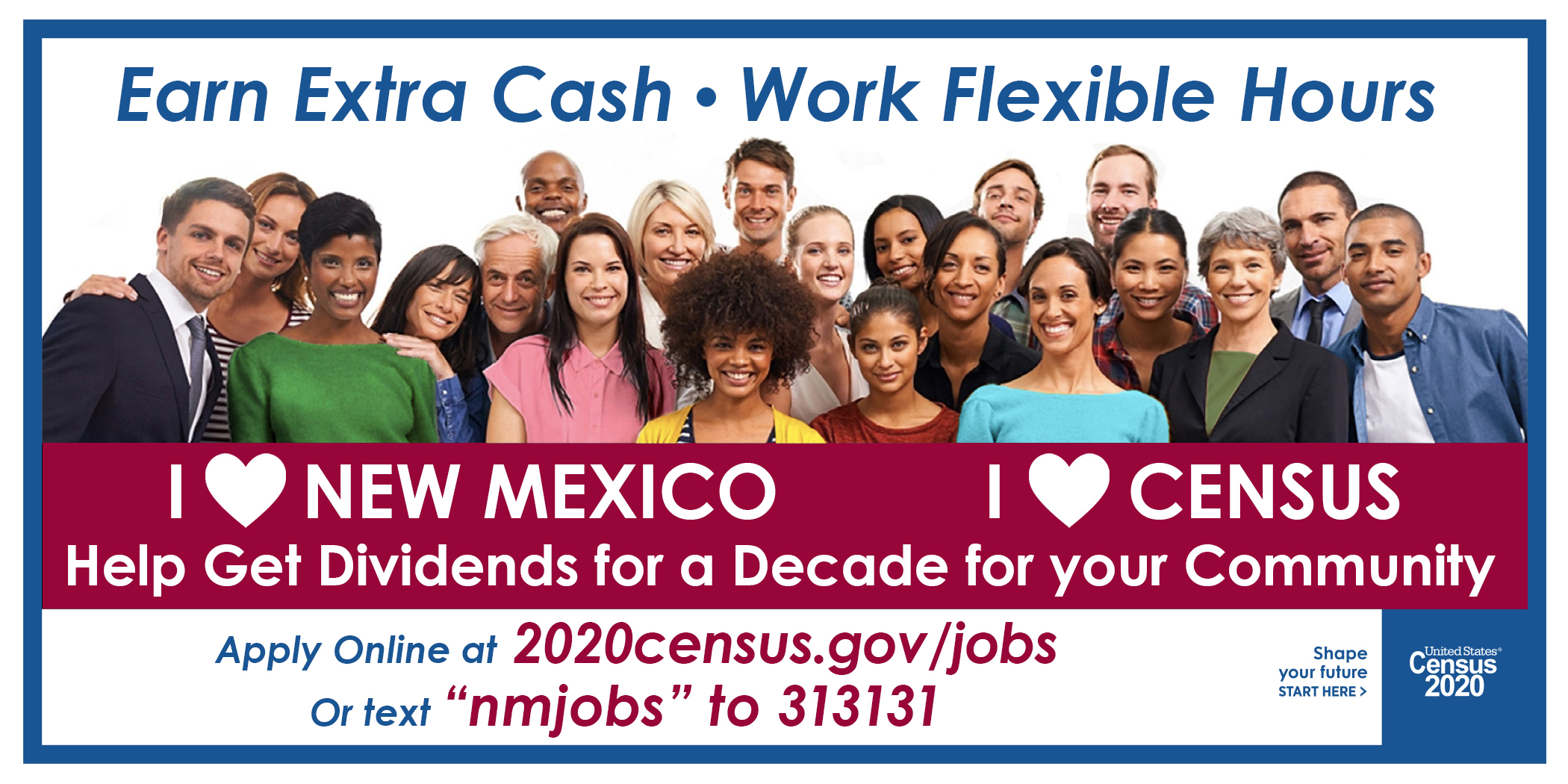 Apply to work with the U.S. Census bureau as a paid employee. There are thousands of job opportunities available in the state of New Mexico. These jobs are ideal for retirees, students, seniors and anyone who wants to work.
Can non-citizens be hired to work on the 2020 Census?
Yes, in certain circumstances. Consistent with law, the Census Bureau will hire non-citizen translators who are legally entitled to work in the U.S. on an as-needed-basis during 2020 peak field operations, if there are no available citizens who can be hired with the necessary non-English language skills. Census Bureau systems are being updated to allow the recruiting and hiring of non-citizens in these situations.
Has the Census Bureau received an exemption from Congress to hire non-citizens for the 2020 Census?
Appropriations law requires that federal employees must be U.S. Citizens. The appropriations law permits the hiring of non-citizen translators if there are no available citizens who can be hired with the necessary non-English language skills. Consistent with law, the Census Bureau will hire non-citizen translators who are legally entitled to work in the U.S. on an as-needed-basis during the 2020 Census. As a point of reference, during the 2010 Census more than 700,000 people were hired to conduct the census and less than 4,000 non-citizen translators were hired. Census Bureau systems are being updated to allow the recruiting and hiring of non-citizens in these situations.
News
Resources
Basic Information about the 2020 Census

-- What is a census and why is it important?

The Response Outreach Area Mapper (ROAM) application makes it easier to identify hard-to-survey areas, allowing the Census Bureau to create a tailored communication and partnership campaign, and to plan for field resources including hiring staff with language skills. These and other efforts can improve response rates.

Sneak preview of the American Community Survey
Get a peek at the 2020 U.S. Census with this sample form
Find out why these questions are being asked

¡

Unete al Census! -- Census Jobs Poster in Spanish
I Count NM - Governor's Statewide Complete Count Commission for the 2020 Census
NM Counts! - Outreach campaign to help ensure that all New Mexicans are counted in the 2020 Census, especially in the most hard-to-count and reach communities
Counting for Dollars 2020: The Role of the Decennial Census in the Geographic Distribution of Federal Funds
The IL Count Me In 2020 Communications & Messaging Working Group developed this communications toolkit, which includes talking points, graphics, sample social media posts, and more.
Arab American Institute's YallaCountMeIn campaign has released a set of materials in Arabic and English.
Asian Americans Advancing Justice | AAJC launched Count On Your Census, a podcast all about the 2020 census to help ensure we can have a fair and accurate count of our communities.
From the US Census Bureau: How to find your nearest Complete Count Committee to support the 2020 Census
Memo on Door-to-Door Canvassing: If you are supporting organizations doing census organizing, the Census Counts Campaign, Democracy Funders Collaborative Census Subgroup, and Funders Census Initiative issued a memo in response to Census Bureau guidance.
The Christian Science Monitor explains the debate over differential privacy -- a clear resource for this complex issue.
FCI consultant and census expert Terri Ann Lowenthal answered Reddit user questions on the 2020 Census. Check out the thread, which includes answers to many commonly-asked policy and operational questions related to the decennial census
April 30, 2017 Keep Hispanic Origin And Race As Separate Questions For 2020 Census For Better Serving Vulnerable Communities: Letter to the U.S. Office of Management and Budget and Congress
Sept 2017 State of Hispanic Race and Ethnicity: Census 2020 Changes and Implications for Addressing Social Inequality Conference Videos

Should the 2020 Census Link Questions About "Race" [Color/Physical Appearance] to "Ethnicity" [National Origin/Ancestry]?

Why We Need to Keep these Questions Separate for Protecting Vulnerable Communities

Collecting and Tabulating Ethnicity and Race Responses in the 2020 Census (Census.gov, February 19, 2020)
What's your street race/gender? Why We Need Separate Questions on Hispanic Origin and Race for the 2020 Census -- Nancy López discusses potential ways of measuring race and ethnicity for the 2020 Census
Smithsonian Showcase Video Presentation 2/19/15: What's your Street Race-Gender?
Dr. Nancy López, Ph.D. in Hola Cultura, Latino Arts and Culture, March 11, 2015, "Talk: The Complexity of Latino Identity and it's Consequences"
Make Every Lobo Count Printable Postcard
Census Academy -- How to find and use Census Bureau data, including informing your business plan, supporting grant proposals and research projects, developing apps, urban development planning and services, and more
How to fill out the census in various languages
Every Decennial Census question, ever (1790-2020). Every Census question, ever. Programmer Alec Barrett has built a spreadsheet listing every question asked on every decennial US Census since 1790 — more than 900 items overall. In addition to the questions themselves, the dataset describes the subgroups of people questioned and the types of answers expected. The interactive article is great visual showing changes over time. Related: The dataset powers " The Evolution of the American Census," Barrett's interactive exploration of how the questions have changed over time, and what they say about America.
Zoom Background
Twitter Hashtags
UNM Census 2020 Complete Count Committee
Co-chairs
Date and Time:
Oct 7, 2020 09:00 AM
Nov 4, 2020 09:00 AM