Jonathan Mann Health & Human Rights Lecture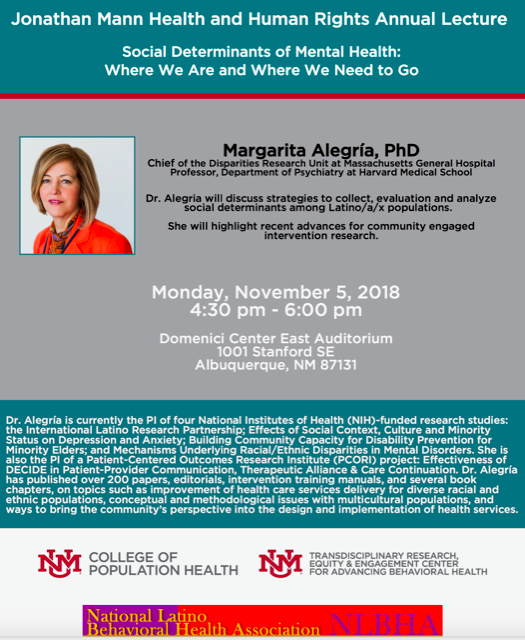 When: Mon, Nov 05 2018 4:30pm
Where: Domenici Center East Auditorium, UNM North Campus
You are invited to be special guests at the
Annual Jonathan Mann Health & Human Rights Lectureon Monday, November 5th from 4:30 until 6 pm including a reception with refreshments/appetizersat the Domenici Center East Auditorium:
Social Determinants of Mental Health for Latino/a/x communities: recent advances in methods and intervention research.
Margarita Alegría, Ph.D. is the Chief of the Disparities Research Unit at Massachusetts General Hospital and a Professor in the Department of Psychiatry at Harvard Medical School. Dr. Alegría is currently the PI of four National Institutes of Health (NIH)-funded research studies: the International Latino Research Partnership; Effects of Social Context, Culture and Minority Status on Depression and Anxiety; Building Community Capacity for Disability Prevention for Minority Elders; and Mechanisms Underlying Racial/Ethnic Disparities in Mental Disorders. She is also the PI of a Patient-Centered Outcomes Research Institute (PCORI) project: Effectiveness of DECIDE in Patient-Provider Communication, Therapeutic Alliance & Care Continuation. Dr. Alegría has published over 200 papers, editorials, intervention training manuals, and several book chapters, on topics such as improvement of healthcare services delivery for diverse racial and ethnic populations, conceptual and methodological issues with multicultural populations, and ways to bring the community's perspective into the design and implementation of health services.
As an acknowledgment of her contributions to her field, Dr. Alegría has been widely recognized and cited. Among her awards are the Mental Health Section Award of the American Public Health Association, 2003; the Health Disparities Innovation Award from the National Institute of Minority Health and Health Disparities, 2008; and the Award of Excellence from the National Hispanic Science Network on Drug Abuse in 2011. In October 2011, she was elected as a member of the Institute of Medicine. Dr. Alegría was selected as El Planeta's (Massachusetts's largest circulating Spanish-language newspaper) 2013's Powermeter 100 most influential people for the Hispanic community in Massachusetts. Most recently, Dr. Alegria received the 2016 Cynthia Lucero Latino Mental Health Award from William James College.