Solidarity and Resistance: Toward Asian American Commitment to Fierce Alliances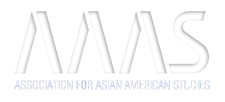 When: Thu, Mar 29 2018 12:00am - Sat, Mar 31 2018 12:00am 
Where: San Francisco
Make plans to join us in San Francisco and be part of the 2018 Annual Meeting!
Theme: Solidarity and Resistance: Asian American Commitment to Fierce Alliances
In San Francisco, California, March 29-31, 2018, the Assoc. for Asian American Studies annual meeting will attract Asian Americanists from all disciplines and different regions of the country. The annual meeting will highlight current scholarly research and developments within the field and bring together experts and professionals with an interest in the field.