Reinventing Critical Pedagogy: Widening the Circle of Anti-Oppression Education
Ricky Lee Allen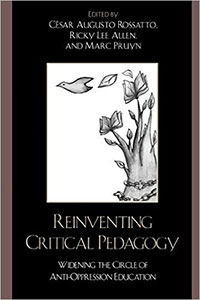 Reinventing Critical Pedagogy offers a fresh perspective from which to read, discuss, and debate recent critical interpretations of schooling and our world at present.
The authors build upon past accomplishments of critical pedagogy and critique those elements that contradict the radically democratic orientation of the field.
Ultimately, they argue that critical pedagogy needs to welcome a wider representational and ideological base for the oppressed, and that it should do so in a way that makes the field more vital in the preparation for the revolutionary struggles ahead.
Reinventing Critical Pedagogy takes a step in that direction because it not only takes to task "external" forces such as capitalism, patriarchy, and white supremacy, but also engages the manifestations of these external forces within critical pedagogy itself.
Available for purchase here.